Testimonials From Recipients of GRIT Freedom Chairs
Sinclair & Rush assisted these individuals in obtaining the remaining costs for their GRIT Freedom Chairs. Let's learn more about them.
---

Karson S
Karson is 7 years old and is the sweetest boy. He is kind, positive, and just such a genuine human. He loves being outside, playing with his dog Max, and will talk your ear off given the opportunity.
Karson wanted a GRIT Freedom Chair to be able to navigate grass and gravel to keep up with friends. At recess Karson has a hard time keeping up outside with other kids. Also, living in Minnesota, being able to have more freedom in the snow is priceless.
From Karson's Mom:
"We cannot thank you enough for the grant given to my son Karson. His new GRIT wheelchair (he calls it his tractor) has made such a difference in the way he is able to navigate the outdoors.
In the short time that we have had it Karson has been able to take it to school and for the first time play with his peers in the winter months. Before his GRIT Freedom Chair he would use a plastic sled, and not be able to keep up with friends. Now he has the freedom to move about through the snow without issue.
We cannot wait to try it out on some trails that we have not been able to explore before this new 'tractor.' We are so grateful for this awesome gift of mobility and cannot wait for many new adventures!"
---
Mikal C
Mikal (pronounced "Michael"), is an artist, looking to live life to the fullest, and loves everything colorful!
Mikal wanted a GRIT Freedom Chair as an option to help get around and explore National Parks and Tourist Sites across the United States. Mikal loves to travel, but with the development of their Charcot Marie Tooth diagnosis, they have been kept from doing what they enjoy most.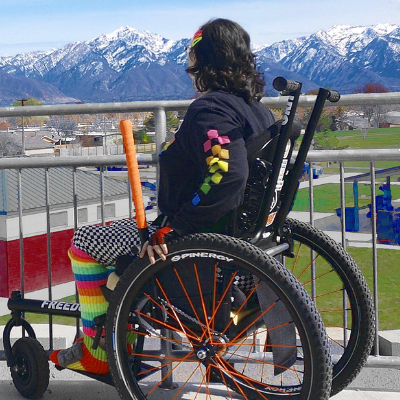 From Mikal:
"My GRIT chair has changed my quality of life immensely. I feel like I can finally connect with the rest of my family in their activities without the pain and exhaustion. I live in a mountainous area, so even roads and sidewalks themselves have proven a challenge for me to get out of my own home for a long time. But now things are starting to look up again.
Having atrophy in my hands and struggling with fine motor, It's incredible how significant the change is with the push levers as opposed to traditional hand rims. I now have the ability to stroll through the neighborhood and downtown with significantly less inaccessibility and pain.
It's astonishing how much you realize you've missed out on things that seem small, like the local small parks and trails, but the change is immense. My new GRIT Freedom Chair has allowed me to experience life the way that others take for granted, but soon I truly look forward to rising above and beyond!
I'm excited to have the most active summer of my life; I haven't been to this park in 4 years and I demolished the track I used to struggle with on my bike as a kid. I've been giggling and playing around in my GRIT Freedom Chair and I feel like a kid again because I don't have to be fragile with my ride outdoors.
Gathering the funds for my GRIT chair had been a grueling and slow process, but Sinclair & Rush gave me the opportunity to reach my goal. Sinclair & Rush honestly REALLY helped out just when I thought my funds would die out. Like almost comically heroic aid, it cannot be real."
---
To learn more about the GRIT Freedom Chairs, click here.